I began to read A.W. Tozer's book entitled The Pursuit of God in early September and his chapter on "The Blessedness of Possessing Nothing" led me to write down some items in my life that I possessed dearly.  These possessions were ones that were keeping me from allowing God to dwell at the center of my life.  The item at the top of the list was "connectedness".  I thought about the hours I spent online or on my phone each day and how these often took away time otherwise spent in relationships with God and others.  With that in mind, I prayed the following prayer which concluded Tozer's chapter:
"Father, I want to know you, but my coward heart fears to give up its toys.  I cannot part with them without inward bleeding, and I do not try to hide from you the terror of parting.  I come trembling, but I do come.  Please root from my heart all those things which I have cherished so long and which have become a very part of my living self, so that you may live there without rival.  Then shall you make the place of your feet glorious.  Then shall my heart have no need of the sun to shine in it, for you will be the light of it, and there shall be no night there.  In Jesus' name, Amen."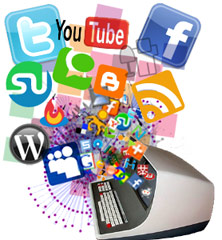 The next few days I thought about this prayer, but I made no progress towards actually living it out.
Weeks later I had effectively forgotten about this prayer until Dr. Lauren Winner announced to our Christian Spirituality class that we were going to have to participate in a technology fast.  I wrote down the first three words that came to my mind when Dr. Winner announced that we were having to fast from email, Twitter, Facebook, text messages, and carrying our cell phones.  The words were stressed, impossible, and ludicrous.  I immediately Tweeted about the assignment, and some folks responded by saying that this task was impossible and that I should drop the class.  These thoughts had already crossed my mind.  Before this assignment the longest time I had gone without checking email was for seven days during a ninth grade mission trip.  However, after getting my first smart phone in July I completely understood the term Crackberry and I had become one of those people I used to love to hate.
Part of my proud nature was excited to be tested so that I could brag about the experience to my tech-savvy friends (Exemplified here).  However, I was also scared to turn everything off because I knew it would be difficult and I thought that others would desperately need to connect with me during the week through the technologies I was giving up.  As soon as I replied to my final email, updated Twitter and Facebook with a fasting announcement, and sent my last text message I began to panic and question whether I could make it seven days.  I turned to God, as I had recently learned we should do in times of fasting, and I prayed for strength and endurance.
Over the next week I had many dreams at night about checking my email.    I felt like I was missing out on activities and community that were being organized by the communication technologies that I desperately desired.  I felt disconnected.  Each morning was a struggle as I consciously avoided jumping into my computer chair and performing my 30 minute routine of internet engagement.  Each evening was a struggle as well as my phone alerted me to new text messages that I could not read.
But in the midst of these negative feelings, I began to notice a peace that seemed to accompany me throughout the day.  I no longer checked my phone before, during, and after each class or felt the need to find the nearest computer to check my email.  Instead, I found myself lingering in the classroom and conversing with others who I rarely saw otherwise.  This led me to hear about some social gatherings that were being organized, and it created space in which relationships with new classmates began to grow.  Further, I did not feel the burden to constantly know what was occurring in the world and my life seemed to almost become more productive as I was able to read, write, and reflect without constantly being distracted.
Seven days after the fast began, I slowly eased out of it.  First, I checked the text messages on my phone.  I received twelve throughout the duration of the week.  To my surprise and slight disappointment, none of them regarded urgent matters.  Next, I logged onto some social media websites and found that I had six Facebook notifications and zero Twitter replies.  Finally, I opened up my email and found 99 messages.  It took no more than three hours to go through them all, and only one message was in need of an immediate response.  After I alerted everyone that I was once again online, I took some time to update my journal in regards to my thoughts and emotions at the completion of the fast.
Things I learned:
I began to realize that I derived a great deal of affirmation, self-purpose, and gratification from communication technologies on a regular basis.  Each morning, instead of logging on to find an email with a question that only I could answer, or a notification that twelve people liked my latest status update, I was not exactly sure what to do.  Many days on the fast I spent time in morning prayer or reading a devotional, but on others I felt like I was going to simply begin another difficult day of school without others alongside of me.  I missed feelings that I learned could only be partially fulfilled by communication technologies, yet fully fulfilled by God.  Throughout the week I found these false securities being slowly uprooted as I was reminded by time spent in prayer and the Bible that God was my source of self-worth, purpose, joy, and peace.
I relied heavily on relationships sustained by communication technologies to provide support and encouragement as I made the life transition to graduate school.  I missed the emails from college fraternity brothers and the encouraging text messages from random friends.  Yet in the absence of these relationships, I began to realize that I had not been diligent about developing close relationships with other students in the Divinity school.  After reading Dean Jones' article about Facebook, I was reminded that my social networking relationships could not serve as replacements for authentic friendship here at Duke and that what I truly longed for on a day to day basis was personal intimacy.
I also found that God spoke most powerfully in my life during silence and uninterrupted times alone in prayer, waiting, and study.  The mornings and evenings where I turned to God instead of my computer refreshed and renewed me in a way that I had not anticipated.
The church should embrace social media but also address issues rampant in contemporary culture that are often supported by it.  The instant gratification, sense of fulfillment, and sense of worth that are easily gained from social media technology are just a few characteristics that have serious implications for our relationships with God and with others.  If the church attempts to engage the broader culture, yet does not explain how the message of Christ stands distinct from the values of contemporary culture, then a generation will arise that sees the church as possibly interesting, but largely irrelevant.
I still get out of bed and desire to immediately log on to the computer, and I check my phone constantly between classes.  Yet, in the midst of all of this, I try and remember Tozer's prayer which asks that God would continue to root out all the things in my heart that rival him there.  Then I thank him for the reality that through Christ I am able to have constant communication with the ruler of all eternity.